Straw Bale House Gets Stucco
---
The Stucco get sprayed on: the stucco crew (of six artists) sprayed, darby'ed and troweled. The first (scratch) coat went on in about four hours, after an hour or so of finishing our stucco preparation for us! The brown coat, done two days later, took more like seven hours, with a little panic setting in as the stucco set up! Joe Sager led his crew in a fine dance, as they worked with four foot long darbies, and smaller trowels, spreading, smoothing, or scratching as needed. Awesome!
Stucco detail over the south door! It's an eyebrow!

Below is the house viewed from the community parking lot (the West side) with two coats of stucco completed. We will not do a color coat this year. The grey is a little lighter now the stucco is dry!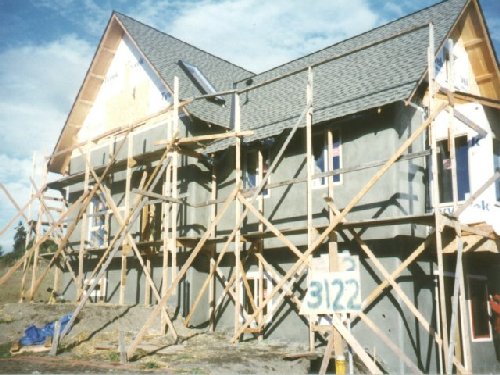 ---
Page Revised, 12/4/98 (never Y2K compliant!)